Eugene Delacroix is not only romantic and orientalist painter par excellence, It is also considered the initiator travel notebooks. This French painter, great among greats, traveled to Spain and North Áfricaen 1832, as part of a diplomatic mission to Morocco shortly after the French conquest of Algeria. He left to escape the life of Parisian society axfisiante, with the hope of seeing a more primitive culture. Product of the trip over 100 paintings and drawings of scenes of life and the peoples of North Africa, added a new personal chapter and possibly the most interesting to the Orientalist movement so fashionable in Europe in the nineteenth.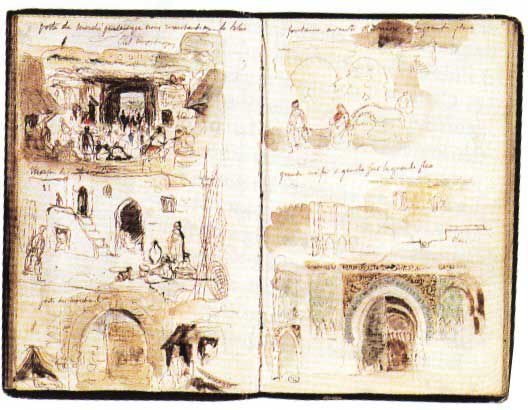 But apart from this trip served as inspiration for his next paintings, Delacroix always carries a notebook to draw what it finds in its path, taking watercolor color data. These books are published and can be purchased at very cared editions, I have not seen yet, but the titles of books published, that make no mention of Spain, I suspect that some were able to mislead. The truth is that the Museo de Bonnat gag retains some loose drawings from his time in Spain, that may well be the single sheets Travelogue Delacroix.
One is a quick drawing of a cruise Cordoba church (written so runs his own handwriting) which I believe the shape corresponding to the Church of the Company, for I have not come up with one that looks like the drawing, Clearly this point I leave for you to discuss.
The other drawing is an olive tree, which may or may not be in the Cordovan countryside, but it made no speculate why, truth?